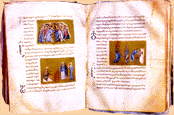 Georgia is the country of ancient culture and historical past. It has made a valuable contribution to the development of the world culture and civilization. From ancient times the aboriginal population - the Georgian tribes were well known for their original and highly developed culture. The witness of it is great many relics and monuments that have survived not only in Georgia, but abroad as well, and the best proof of it is, that one of the existing 14 alphabets on the world is Georgian.

According to historical sources, the Georgian alphabet was created in the III century B.C. during the reign of the King Parnavaz. It was changing in the course of centuries and thus reached the present days.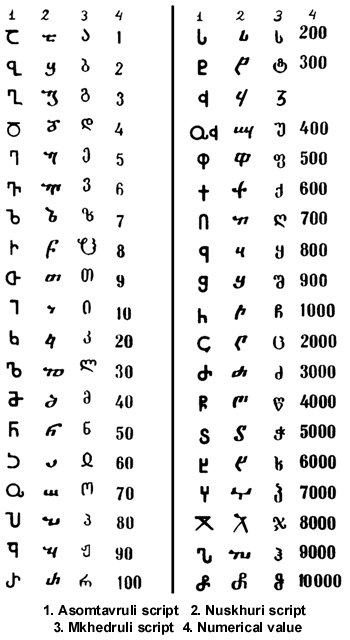 Georgian script is of three kinds: Asomtavruli, Nuskhuri and Mkhedruli: The oldest writings that reached our days are Asomtavruli. These are inscriptions made on the Georgian church built in 430 by Petre Iberi in Juda desert (near Beth-lehem), and inscriptions on the Bolnisi Sioni temple in 495. Besides, there are other inscriptions, palimpsests and belle-letters, one of which is "Martyrdom of Shushanik" by Jakob Tsurtaveli in the V century.
Basically hagiographic and ecclesiastical works were written in Asomtavruli and Nuskhuri. In the X-XII centuries during the golden ages of Georgian State System, Mkhedruli was developed mostly, in which secular works were written. This same script is used in modern Georgian.
These types of writings were used simultaneously. E.g.: Ecclesiastical Books were written in old letters, but Kings' orders, secular documents and books were written in Mkhedruli.
The original Georgian alphabet is exact, simple and economical. It has as many letters as the sounds in the speech. Graphic of these three types is original and it has no parallel among any other alphabets in the world.
Modern Georgian type is various. In 1629 Georgian type was cast in moulds in Rome for the first time and it was then that in 1629 "Georgian-Italian Dictionary" and "Georgian alphabet with prayers", compiled by Stephano Paolini and Nikiphore Irbach (Cholokashvili) were printed. In 1643, in Rome, "Georgian Grammar" by Francisco-Maria Majio was printed, where Nuskhuri, Asomtavruli and Mkhedruli were used.
In 1705, in Moscow under the guidance of the King Archil II Nuskhuri and Khutsuri types were cast, in which "Davitni" was printed. In 1712, in Georgia, in the printing-house of Vakhctang VI "The Knight in the Panther's Skin" by Shota Rustaveli was printed. In this same printing-house were also printed "New Testament" and "The Bible".
These days various kinds of types are used in Georgia.